CONTACT US
Cell phone:+8617329375552

TEL:+86-373-5871333

P.C:453000

E-mail: info@jxcryo.com

Add: Chenbao Industrial Park,Xinxiang City,Henan Province,China.
+8617329375552
News
You are here: Home > News
Making liquid nitrogen ice cream
release:Xinxiang Jinxin Import and Export Machinery Co.,Ltd Browse:5800time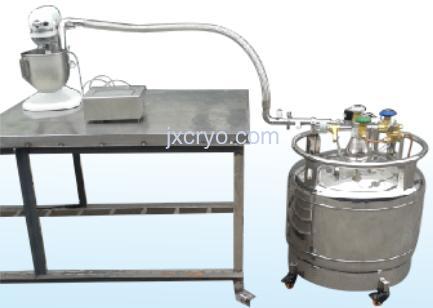 Basically, you need liquid nitrogen container + mixer to make ice cream.
We provide liquid nitrogen containers to supply nitrogen for your business.
Here're two ways:
1. Self-pressurized liquid nitrogen cylinder YDZ-50 (+ 2m transfer hose) ------ pour liquid nitrogen automatically
2. Aluminum open dewar YDS-10 (+ 2L stainless steel thermos bottle) ----- pour liquid nitrogen manually
Welcome to email and let us know more your ideas about making liquid nitrogen ice cream.