CONTACT US
Cell phone:+8617329375552

TEL:+86-373-5871333

P.C:453000

E-mail: info@jxcryo.com

Add: Chenbao Industrial Park,Xinxiang City,Henan Province,China.
+8617329375552
Aluminum dewars
You are here: Home > Aluminum dewars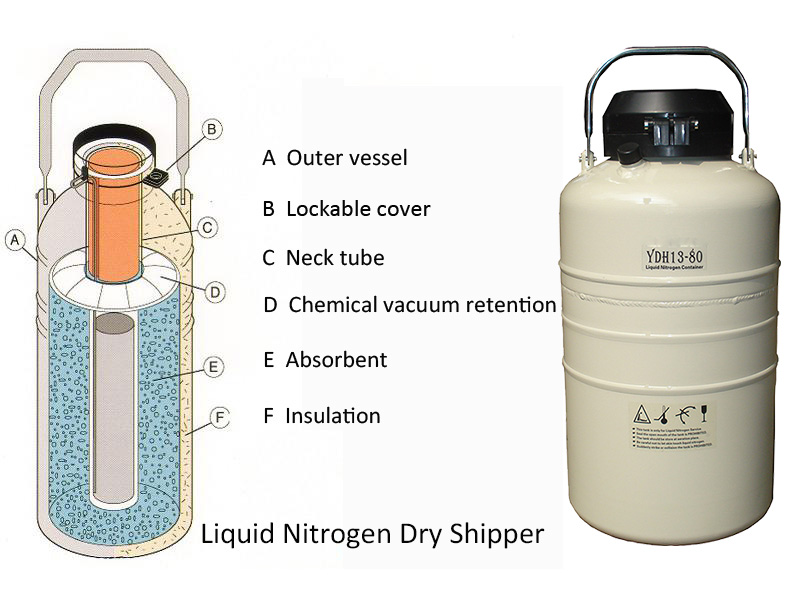 Vapor shipper YDH/ liquid nitrogen dry shipper
Tel:+86-373-5871333
E-mail: info@jxcryo.com

+8617329375552



Liquid nitrogen absorbent is designed in the vessel of this series containers, which absorbs and stores liquid nitrogen inside. Even if the container is turned over during transportation, liquid nitrogen never spills out. With lower static evaporation loss, these containers are especially suitable for air transportation.
| | | | | | | | |
| --- | --- | --- | --- | --- | --- | --- | --- |
| Characteristics | Unit | YDS-3H | YDH-3 | YDS-8H-80 | YDH13-80 | YDS-10H-125 | YDS-25H-216 |
| Liquid capacity | L | 3 | 3.5 | 8 | 13 | 10 | 25 |
| Absorbed capacity | L | 1.35 | 2 | 3.5 | 5.9 | 3.3 | 9.5 |
| Diameter of neck | Mm | 50 | 50 | 80 | 80 | 125 | 216 |
| Wight empty | Kg | 3.5 | 5.2 | 6.2 | 8.5 | 6.9 | 13 |
| Weight full | Kg | 5.9 | 8.2 | 12.6 | 18.9 | 14.9 | 33 |
| External diameter | Mm | 224 | 224 | 300 | 304 | 300 | 394 |
| Total height | mm | 428 | 505 | 581 | 565 | 546 | 705 |
| Daily evaporation rate | l/d | 0.15 | 0.14 | 0.21 | 0.23 | 0.37 | 0.89 |
| Static hold time (vapor phase) | D | 9 | 14 | 18 | 25 | 9 | 10 |
| Number of canisters | | 1 | 1 | 1 | 1 | 1 | Rack |
| Diameter of canister | Mm | 38 | 38 | 70 | 70 | 97 | - |
| Height of canister | Mm | 120 | 276 | 120 | 276 | 276 | - |
| Number of level of goblets | | 1 | 2 | 1 | 2 | 2 | - |
| Max. capacity of 0.25ml straws | | 298 | 472 | 1060 | 1680 | 3324 | - |
| Max. capacity of 0.5ml straws | | 132 | 214 | 469 | 761 | 1508 | - |