CONTACT US
Cell phone:+8617329375552

TEL:+86-373-5871333

P.C:453000

E-mail: info@jxcryo.com

Add: Chenbao Industrial Park,Xinxiang City,Henan Province,China.
+8617329375552
Aluminum dewars
You are here: Home > Aluminum dewars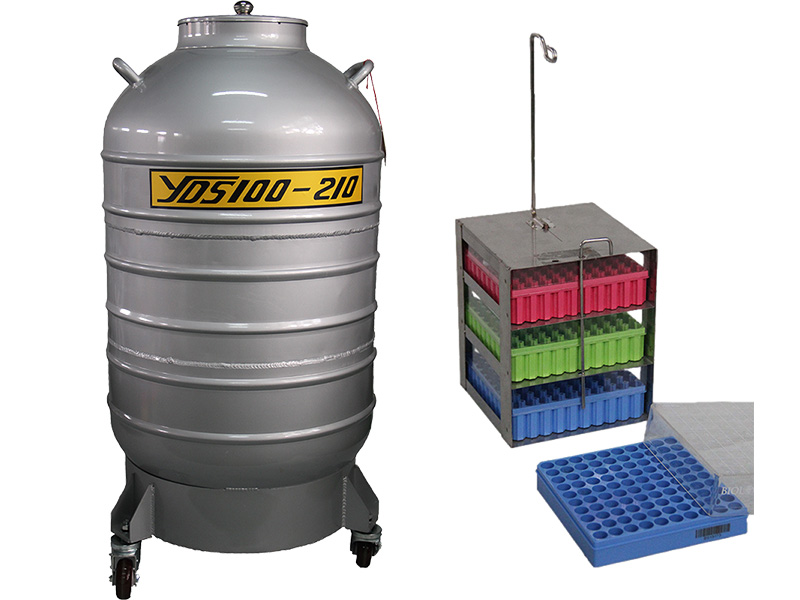 Large caliber storage YDS/ liquid nitrogen container
Tel:+86-373-5871333
E-mail: info@jxcryo.com

+8617329375552



Large caliber type (φneck≥80mm)
This series is designed for those who require large capacity storage and low liquid nitrogen consumption in a convenient lightweight package.
☆ High strength aluminum alloy structure, light weight and resistant;

☆ Multi-layer thermal isolation design;
☆ Lockable cover protect stored biological samples;
☆ Protective jacket to prevent collision;
☆ Stainess steel canister with goblets for easy handling;
☆ Low evaporation loss with long holding time;
☆ 5-year vacuum warranty.
| | | | | | | | |
| --- | --- | --- | --- | --- | --- | --- | --- |
| Characteristics | Unit | YDS10-80 | YDS30-80 | YDS35-80 | YDS30-125 | YDS35-125 | YDS35-125/10 |
| Liquid capacity | L | 10 | 31.5 | 35.5 | 31.5 | 35.5 | 35.5 |
| Diameter of neck | Mm | 80 | 80 | 80 | 125 | 125 | 125 |
| Wight empty | Kg | 6.8 | 14.6 | 16.8 | 16.8 | 16.8 | 17.2 |
| Weight full | Kg | 14.9 | 40.0 | 45.4 | 42.3 | 45.4 | 45.8 |
| External diameter | Mm | 305 | 455 | 455 | 455 | 455 | 455 |
| Total height | mm | 530 | 670 | 740 | 690 | 740 | 740 |
| Daily evaporation rate | l/d | 0.17 | 0.18 | 0.19 | 0.28 | 0.29 | 0.29 |
| Static holding time | D | 59 | 175 | 189 | 113 | 123 | 121 |
| Number of canisters | | 6 | 6 | 6 | 6 | 6 | 10 |
| Diameter of canister | Mm | 63 | 63 | 63 | 97 | 97 | 73 |
| Height of canister | Mm | 120 | 276 | 276 | 276 | 276 | 276 |
| Number of level of goblets | | 1 | 2 | 2 | 2 | 2 | 2 |
| Max. capacity of 0.25ml straws | | 5022 | 8460 | 8460 | 19944 | 19944 | 20160 |
| Max. capacity of 0.5ml straws | | 2244 | 3624 | 3624 | 9048 | 9048 | 9150 |
| | | | | | |
| --- | --- | --- | --- | --- | --- |
| Characteristics | Unit | YDS47-127 | YDS60-210 | YDS100-210 | YDS175-216 |
| Liquid capacity | L | 47 | 63 | 100 | 175 |
| Diameter of neck | Mm | 127 | 210 | 210 | 216 |
| Wight empty | Kg | 19.0 | 27.8 | 31.2 | 54.5 |
| Weight full | Kg | 56.6 | 78.7 | 112 | 194.5 |
| External diameter | Mm | 500 | 560 | 560 | 681 |
| Total height | Mm | 675 | 900 | 1100 | 1040 |
| Daily evaporation rate | l/d | 0.45 | 0.68 | 0.85 | 0.95 |
| Static holding time | D | 105 | 93 | 117 | 185 |
| Number of racks | | 6 | 4 | 4 | 6 |
| Number of shelves per rack | | 6 | 3 | 7 | 10 |
| Dimension of rack | mm | 82*84 | 142*144 | 142*144 | 142*144 |
| Total capacity of 2ml cryo-vials | | 900 | 1200 | 2800 | 6000 |