CONTACT US
Cell phone:+8617329375552

TEL:+86-373-5871333

P.C:453000

E-mail: info@jxcryo.com

Add: Chenbao Industrial Park,Xinxiang City,Henan Province,China.
+8617329375552
Bulk storage tanks
You are here: Home > Bulk storage tanks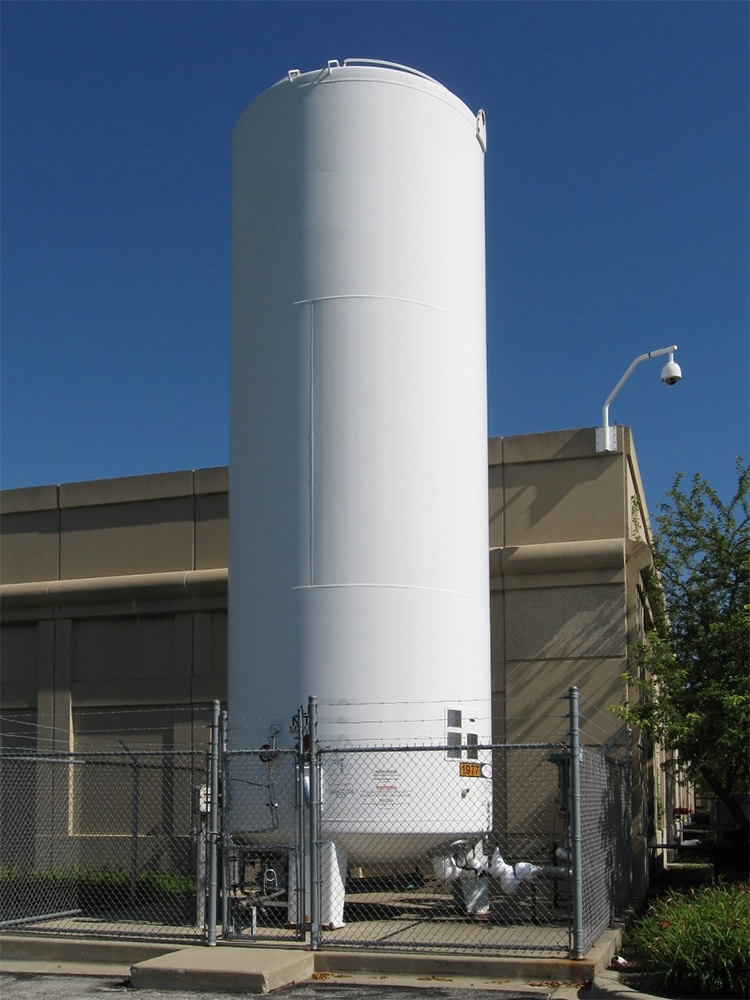 LN2/LO2/LAr/LCO2 storage tanks
Tel:+86-373-5871333
E-mail: info@jxcryo.com

+8617329375552



上一篇:没有了;
下一篇:没有了;
They are designed for long-term storage of liquified air gases, including nitrogen, oxygen and argon. The available capacity is from 5m³ to 200m³ with maximum alowbale working pressure of 2.16Mpa. Competitive price, excellent heat-insulation property, extended-long vacuum holding time, lowest lifecycle maintainance cost, light weight to reduce transportation and installation cost make our tanks widely applicated.

Features:
☆Inner vessel – stainless steel for cryogenic temperature with optimized design for light weight
☆Outer Jacket – carbon steel outer with a combined leg and lifting lug system designed for safe transport, easy lifting and low cost erection
☆Insulation – a proven high quality vacuum-super insulation system ensures long term vacuum performance, backed by 5 years warranty on vacuum integrity
☆Piping – stainless steel piping for reliability and durability; ergonomically designed layout without flow diagram and gauges at eye level
☆Valves – modular configuration bronze valves with welded-on connections (other valves, such as stainless steel and/or screw-on connections are optional)
☆Pressure Control – an easily adjustable multifunction regulator serves as pressure regulator, ecomonizer and check valve. An aluminum pressure building coil is standard. Other types of PBUs, including high capacity PBU or stailess steel core vaporizers are optional
☆Instrumentation – high quality pressure gauge and differential pressure contents gauge are standard with optional switches, transmitter and/or telemetry unit
☆Safety – tanks are equiped with dual relief valves switch a variaty of options, including additional relief valves and/or rupture discs. Easily accessible valves and safety relief valve outlets directed away from the operating area.
☆Pump Options – thermosiphon tank with pump connection is available as an option
☆Cleanliness – all tanks and their components are cleaned and certified for oxygen service
☆Outer Finish – high grade of sand-blashing and rust-removing, painting with standard durable corrision resistant epoxy-polyurethane white paint
☆Transport – rugged internal supports for safe transportation by road, rail or sea.
Specifications:
Model

CFL5-

0.8(1.6)

CFL10-

0.8(1.6)

CFL15-0.8(1.6)

CFL20-

0.8(1.6)

CFL30-

0.8(1.6)

CFL50-

0.8(1.6)

MAWP(Mpa)

0.8(1.6)

0.8(1.6)

0.8(1.6)

0.8(1.6)

0.8(1.6)

0.8(1.6)

Full Capacity(m³)

5.26

10.52

15.78

21.05

31.57

52.63

Effe. Capacity (m³)

5

10

15

20

30

50

Medium

LIN/LOX/LAR

Dimension

(mm)

D

2000

2100

2400

2500

2900

3100

H

5130

7170

7552

8756

8870

12058

Empty Weight(kg)

3412

(3945)

5378

(6787)

6415

(8628)

8255

(10744)

12899

(15000)

18960

(24025)
Notes:
Filling rate 95% (equilibrium state at 1.013bar)
Data in brackets are for 1.6Mpa models
Design and specifications are subjected to change without prior notice
Models not listed above can be made according to demand
上一篇:没有了;
下一篇:没有了;